ISS released a summary of the vote results for shareholder proposals on leading governance, environmental and social topics. Investors overwhelmingly endorsed company pay programs, 91.2% support on average (based on "for" and "against" votes). Shareholders voted down management "say on pay" proposals at 36 companies, or just 1.7 percent of the almost 2,200 companies in the Russell 3000 index that have reported vote results.
Overall, ISS has recommended against "say on pay" proposals at 11 percent of U.S. companies that have held advisory votes this year. Within the Russell 3000 index, ISS recommended against 12.6 percent of companies' compensation practices. For the S&P 500 index, ISS issued negative "say on pay" recommendations at 15 percent of the companies.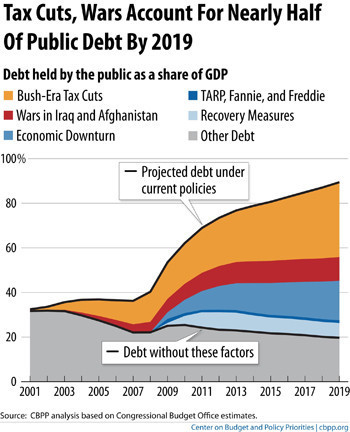 I'm relatively sure I recommended against a majority of pay packages for companies in my portfolio, based on USPX draft guidelines.
With tax cuts, stagnating pay for average workers, and huge deficits, I see no need to encourage the continuing acceleration of pay for CEOs. No one needs more than the median large cap CEO pay of $9.3 million last year. That's annual pay… not life-time earnings.
It is time for the rich to ratchet down what they take from corporate profits and it is time that they pay higher taxes so that our children can grow up in an America with a strong middle class and without the huge deficit burden they now face.
Here's a graph showing "the sum of annual budget deficits, minus annual surpluses" — according to new analysis from the non-partisan Center for Budget and Policy Priorities.
In an April speech, Obama laid out a plan to reduce the nation's deficit and debt, suggesting that he would strive to make sure the tax cuts for the highest earners expire naturally in 2012. That would go a long way toward at least stabilizing the debt-to-GDP ratio.